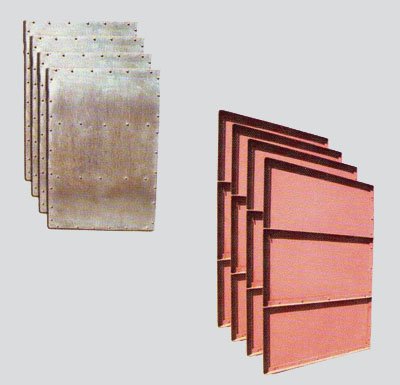 Floor / Slab Forms
Pressed Plates:
Pressed out of sheet having thickness of 2/2.5mm
Sizes available :
| 1) 1150 x 600 | 2) 900 x 600 |
| --- | --- |
| 3) 1150 x 300 | 4) 900 x 300 |
Angle Parts:
Fabricated from 2/1.6 mm thick sheet & 30/35/25 x 30/35/25 x 5/4/3 mm angle. Wide range of sizes available.
Steel Frames with Shuttering Ply:
As per buyers specifications. Different options available. Adjusters are also made to fill up odd shab shapes. (Gabdi Plates) Columns / beams sides also available fo 230 x 2500 mm or any specified size.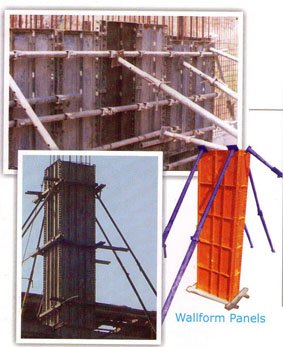 Wallform System & Accessories
Our Wallform system includes of plates fabricated from 45 x 45 x 5mm slotted angle, holes at 50mm c/c. stiffeners of MS flat and top sheet 2.5 mm thick HRC.
Wallform Accessories
These includes Single clips for 40 NB tubes support, Double clips for channel support, bridge clips wedge clips/ forged nut bolts for interlocking of plates, tie rods, cones etc.
Note : Size and specification of the system can also be altered specially as per customer requirement i.e tailor made.
Column Clamp (Shikanja)
Ideally suited for a wide range of column sizes and can be used with both steel or timber shuttering. These clamps have no loose parts. These are manufactured from 40 x 5/8 mm MS flat and are available in sizes of 2ft. , 21/2ft., 3ft. and 4ft.