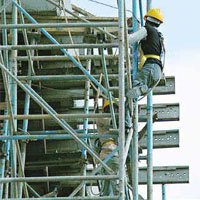 Frame Scaffolding
Ideal as access scaffolding and support centering. Consists of welding frames with two verticals with sockets welded to them & two 40/20 mm N.B horizontals. Frames manufactured in heinghts of 200, 1250 and 1000 mm and width of 1800, 12500 and 1000mm.
Scissor type cross brancing secured to frames through the pions welded to frames and locked in position by gravity locks.
Types of Frames:
Walk Thru, Ladder and other frames also available in all specification. These are studty welded frames with two verticals and two horizontals connections done by scissor cross braces through welded pins and locked by spring clips/ Gravity lock pins.
Frames for Tower Hoist / Lift Machines :
Manufactured from 40/32 NB tubes specifications followed are standard as per the winch of the hoist. Size 2000mm heights and 2000 mm width. Ladder is given as per order . These H Frame come in set of 40/30 m height.
Heavy dury angular cross bracings are made to maintain distance of 2000 mm between two frames.